Earth Lamp
$29.95
Regular price
Unit price

/

per
Quantity selected exceeds current stock

A Light To You In Dark Places
This limited-edition Earth Lamp
is a reminder that we all sleep under one sky.
 Every time you or someone special sees this light we want you to remember that without darkness we wouldn't know the warmth of the light.
Spread Your Light
Indulge your senses as you bask in the glow of the Earth Lamp. Displayed on a wooden stand, this lamp is perfect as a night light, bedside table lamp, or home decor that will light up any room. The Earth Lamp transforms your home into a cosmic oasis. 
Earth Lamp Features
16 Colors: Conveniently change the Earth Lamp between 16 different colors to reflect your mood and transform your space.
Remote Control: Effortlessly operate the 3D Earth Lamp by remote control to switch between colors and the various light settings. 
USB Rechargeable: Recharge the lamp with the USB charging cable which connects to any micro-USB adapter. 
3D Print Technology: Each lamp takes 26 hours to individually 3D print. Every crater has been carefully designed to reflect the moon's surface using real satellite imaging.
The Perfect Gift
When in the Earth Lamps' presence, we hope it is a heartfelt reminder that we are all deeply interconnected through darkness and light. This Earth Lamp is a perfect gift for birthdays, anniversaries, graduations, weddings, Valentine's Day, Christmas, or just because. 

Frequently Asked Questions (FAQ):
Question:

 How big is the Earth Lamp

?
Answer: There are two sizes:
XS: 3 inches (8cm)
M: 6 inches (15cm)

Question:

 How many color settings does the lamp have

?
Answer: The lamp has 16 different color settings and a strobe setting.
Question:

 

How long does the lamp hold a charge?
Answer: The lamp will run for several hours.
Question: How long does it take to fully charge the lamp for use? 
Answer: It will take 3-4 hours to fully charge the lamp.
Question: Is the wood stand included?
Answer: Yes it is included.
Question: What is your lamp made of?
Answer: The material is PVC non-toxic and environmentally friendly.
Package Contains
1x Wireless Earth Lamp

1x Instruction Manual

1x Micro USB Cable

1x Wood Base

1x Remote

 
30-Day Money-Back Guarantee
We have a 30-day guarantee policy that offers free replacement options for products that are damaged, defective, or not what you ordered. If you do not like your product, we can offer a store credit to be used on another purchase, or you can return the item. Please see our 30-day policy for full details.
Shop Sustainably
With every order, we donate a portion of the proceeds to reforestation projects around the globe. Due to this, your shipping will be 100% carbon-neutral.
Adding product to your cart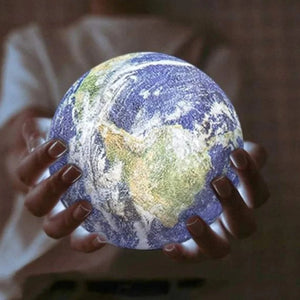 Recommended
You might also like these