Indulge your senses as you bask in the ambiance of the Levitating Flower Pot. This levitating flower pot floats freely on a magnetized wooden stand, invoking an inspired atmosphere in any home. This perfect home decor that will elevate any room and lift your spirits. The Levitating Plant transforms your home into a green oasis.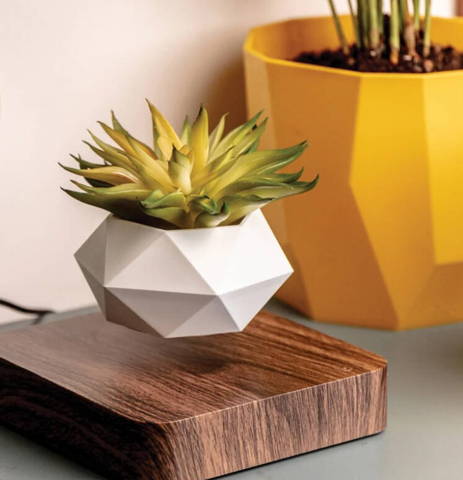 Levitating Flower Pot Features
• Levitating Plant: Watch in awe as the swirling flowers float in mid-air. Our magnetic technology is a wonder to behold, and a sure to impress any guest in your home.
• Silent, Endless Floating: The Levitating Flower Pot is designed to levitate completely silently 24/7. Simply lower the plant pot onto the base it until you feel an upward repulsion force.
• Choose Your Plant: You can enjoy this futuristic plant pot with either real or artificial plants. Choose your mood!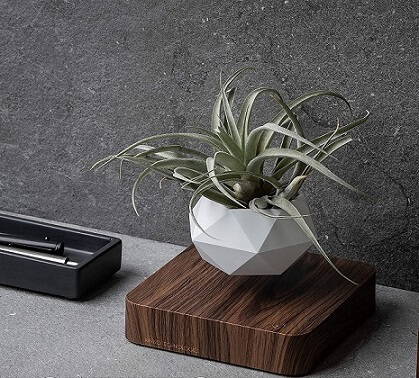 When in the Levitating Plant's presence, we hope it is a heartfelt reminder that we are all deeply interconnected through ups and downs. This levitating pot plant is a perfect gift for birthdays, anniversaries, graduations, weddings, Valentine's Day, Christmas, or just because.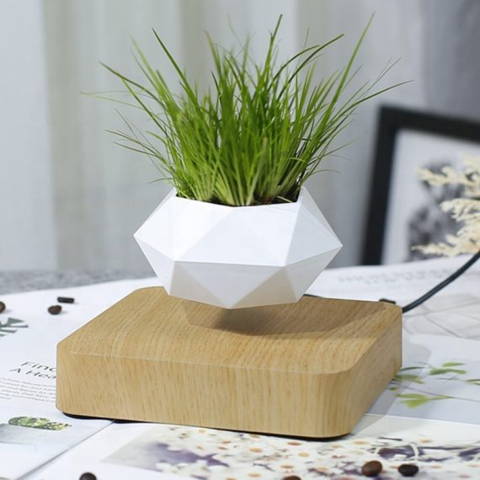 How big is the Levitating Pot Plant?
Base size: 13.4x13.4x2.8cm/5.27x5.27x1.1inch
Flower pot size: 9x5cm/3.54x1.96inch
Suspension height: 2cm/0.78inch
Inside the wooden base there is an electromagnet and a magnetic induction charger. When lowering the flower pot onto the base, the outermost electromagnets serve to attract the base while the inner magnets create a repelling force. This is what holds the moon in place and causes it to hover a few centimetres above the base.
Is the wood stand included?
What kind of charging cord does it use?
The Levitating Flower Pot comes with a charging cord that plugs into the wooden base. We have four different plug options based on your location.
What else is in the package?
Your package includes:


1x Levitating Flower Pot
1x Wooden Stand
1x Charging Cord
1x Instruction Manual
What is your 30-day guarantee?
We have a 30-day guarantee policy that offers free replacement options for products that are damaged, defective, or not what you ordered. If you don't like your product, we can refund your order minus the costs incurred for shipping, or offer a store credit to be used on your next purchase.
Do you offer carbon-neutral shipping?

Yes! Every order has carbon-neutral shipping so you can shop guilt-free! Learn more about our carbon-neutral shipping here.