Indulge your senses as you bask in the glow of the Levitating Original Moon Lamp. This celestial dream floats freely on a magnetized wooden stand, invoking an inspired atmosphere in any home. Perfect as a night light, bedside table lamp, or home decor that will light up any room. The Original Moon Lamp transforms your home into a cosmic oasis.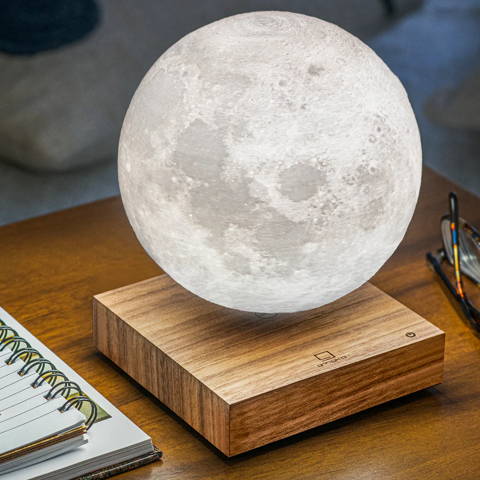 Levitating Moon Lamp Features
• Levitating Moon: Watch in awe as the swirling sphere floats in mid-air. Our magnetic technology is a wonder to behold, and a sure to impress any guest in your home.
• 3D Print Technology: Each lamp takes 26 hours to individually 3D print. Every crater has been carefully designed to reflect the moon's surface using real satellite imaging.
• Silent, Endless Floating: The Levitating Original Moon Lamp is designed to levitate completely silently 24/7. Simply lower the sphere onto the base it until you feel an upward repulsion force.
• Wireless Technology: The Levitating Original Moon Lamp uses wireless technology so it can be lit up even while levitating! The touch control base allows you to turn it on and off.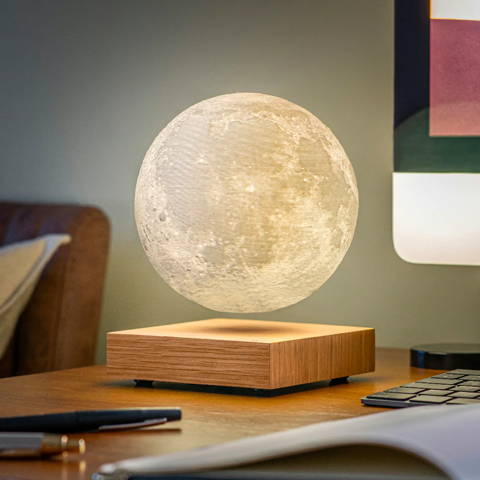 When in the moonlight's presence, we hope it is a heartfelt reminder that we are all deeply interconnected through darkness and light. This Moon lamp is a perfect gift for birthdays, anniversaries, graduations, weddings, Valentine's Day, Christmas, or just because.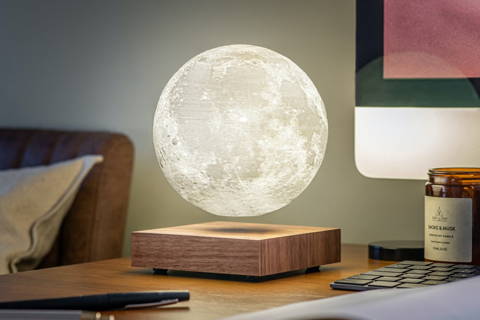 How big is the Levitating Original Moon Lamp?
The sphere of the Levitating Moon Lamp is 15cm in diameter. The wooden base is 13.4cm x 13.4cm x 2.8cm.
The Original Levitating Moon Lamp only has one colour.
If you would like to see our multi-colour version, please click here to learn more.
What material is it made of?
The Moon Lamp sphere is 3D printed from sturdy and lightweight ABS & PVC plastic. The stand is made from wood and magnets. The light source comes from an environmentally friendly and heat-safe LED bulb.
Inside the wooden base there is an electromagnet and a magnetic induction charger. When lowering the moon onto the base, the outermost electromagnets serve to attract the base while the inner magnets create a repelling force. This is what holds the moon in place and causes it to hover a few centimetres above the base.
Is the wood stand included?
What kind of charging cord does it use?
The Moon Lamp comes with a charging cord that plugs into the wooden base. We have four different plug options based on your location.
What else is in the package?
Your package includes:


1x Levitating Moon Lamp
1x Wooden Stand
1x Charging Cord
1x Instruction Manual
What is your 30-day guarantee?
We have a 30-day guarantee policy that offers free replacement options for products that are damaged, defective, or not what you ordered. If you don't like your product, we can refund your order minus the costs incurred for shipping, or offer a store credit to be used on your next purchase.
Do you have a moon lamp that doesn't levitate?